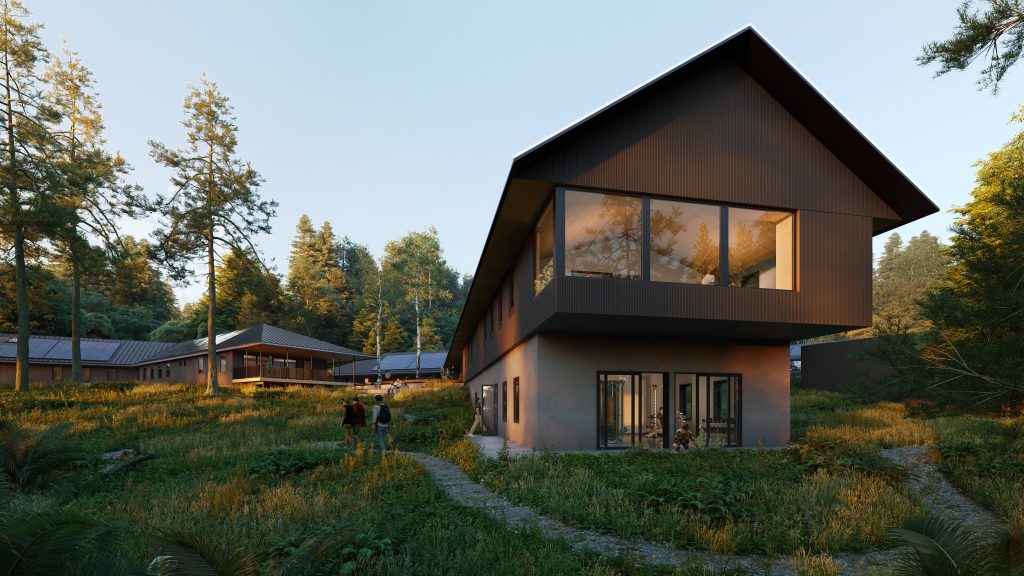 Building on a 55-year heritage of providing residential care to some of Oregon's most vulnerable and marginalized children and youth, Parrott Creek is working with local and national thought-leaders to re-envision how we conceptualize the care, treatment and physical spaces provided to system-involved youth in residential settings. We are developing sector-leading, transformative, and culturally responsive approaches to individual, group, and residential treatment, and we are placing ourselves at the heart of statewide efforts to meet the ever-changing needs of children and families. In particular, Parrott Creek is responding to the growth in demand for mental health and drug-treatment services and for programs that can reverse the disproportionate impact of behavioral health challenges and social inequities on BIPOC, LGBTQIA+ and other disadvantaged communities.
Trauma that youth have endured prior to their stay at Parrott Creek include emotional abuse, physical abuse, neglect, sexual abuse, mental illness in the home, domestic violence in the home, an incarcerated parent, drug use in the home, and/or family breakup.
We have a very successful track-record to build on: our youth reoffending rates, at 12%, are half the state-wide average, two-thirds of youth (67%) complete their treatment goals and  92% report positive changes in their lives.

Parrott Creek's 80-acre property is located in rural Clackamas County, just outside the Metro region and within 30 minutes travel time to Portland. The property includes wetlands, creeks, meadows, and forest.  The current 12,000 square feet of buildings are located on a 5 acre area at the northern edge of the property; preserving the majority of the land as a resource for nature therapy, environmental stewardship, and indigenous community access. The current buildings can serve up to 20 youth in treatment at any given time. Sadly, our ethos and our models of care have become increasingly at odds with the outdated design of the buildings themselves and, in fact, the vast majority of residential treatment infrastructure across Oregon are artifacts of a bygone era and are no longer fit for purpose.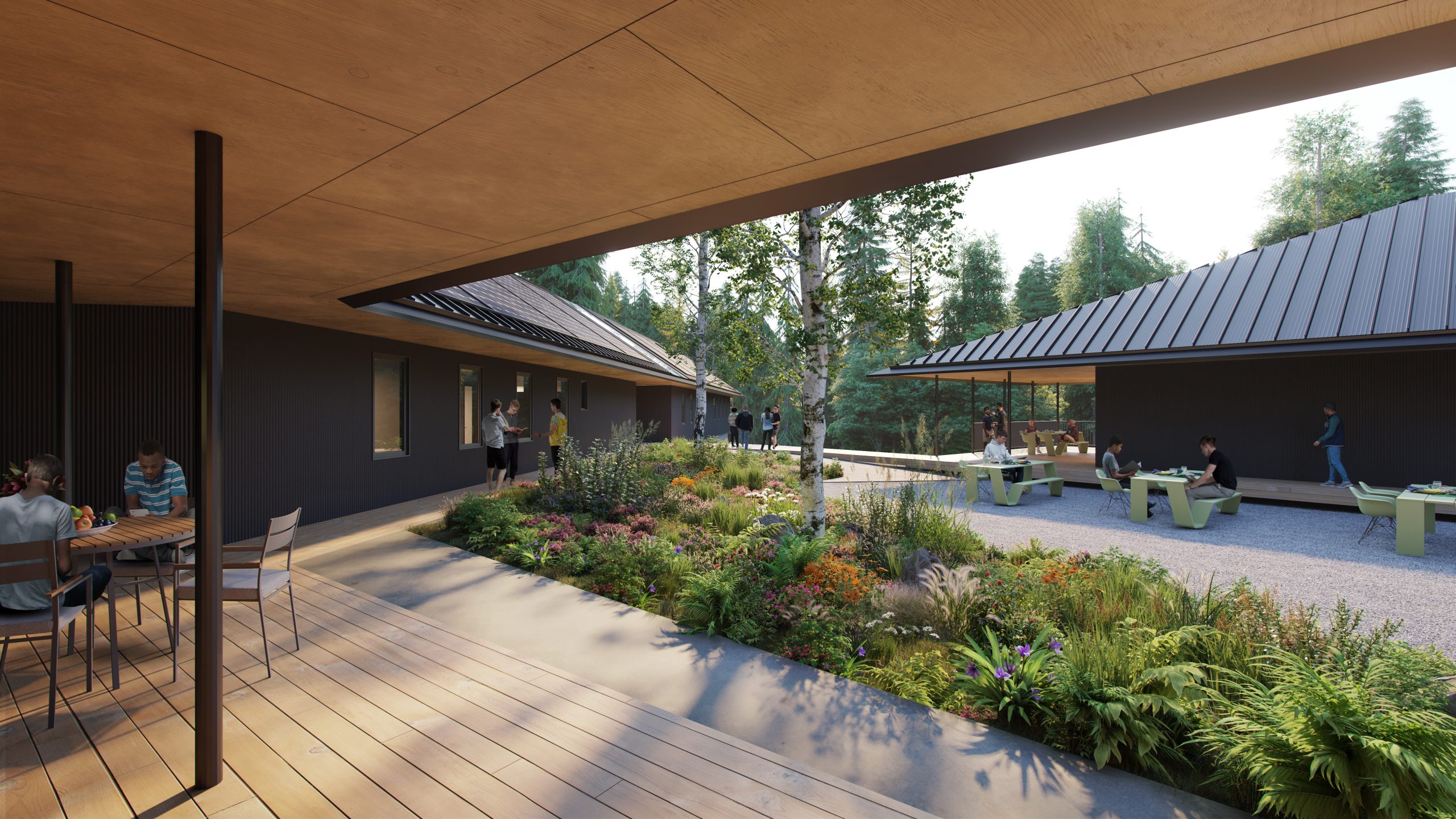 Sadly, Oregon is failing its youth. Research published by the Oregon Health Sciences University in 2022 found Oregon ranks 2nd worst in the nation for drug related deaths, worst for needing but not receiving treatment and, sadly, worst in the nation for the percent of the population 12 and older with illicit drug use disorders. Further analysis shows a 49% gap in the provision of substance use treatment services. In Oregon, Black youth are 3.7 times more likely to be detained or committed to juvenile facilities and 50% of children under 18 who have contact with a parole/probation officer or a child welfare caseworker will experience homelessness before the age of 25. These harrowing statistics point to massive holes in the social fabric of our communities and it is these gaps in services that Parrott Creek seeks to fill through the expansion of new care and treatment facilities.

The development builds 22,410 square feet of new residential, treatment, education, recreation, and administrative space. The new facility will double the existing capacity to care for up to 40 youth and provide an opportunity to broaden Parrott Creeks' array of services to fully meet the needs of Oregon's communities.  
Our Bright Futures campaign will provide modern, trauma-informed, and culturally responsive buildings that use cutting-edge design to support the healing work of the residents and staff, allowing Parrott Creek to serve an increasingly diverse demographic. 
The principles guiding the project design are: Let Youth Be Youth, Site Stewardship, Practical and Cost Effective, Flexible Adaptive and Resilient, Healing and Restorative.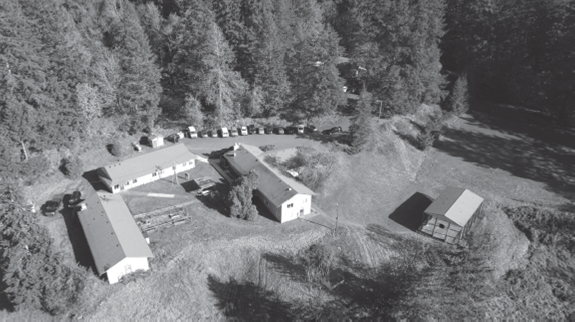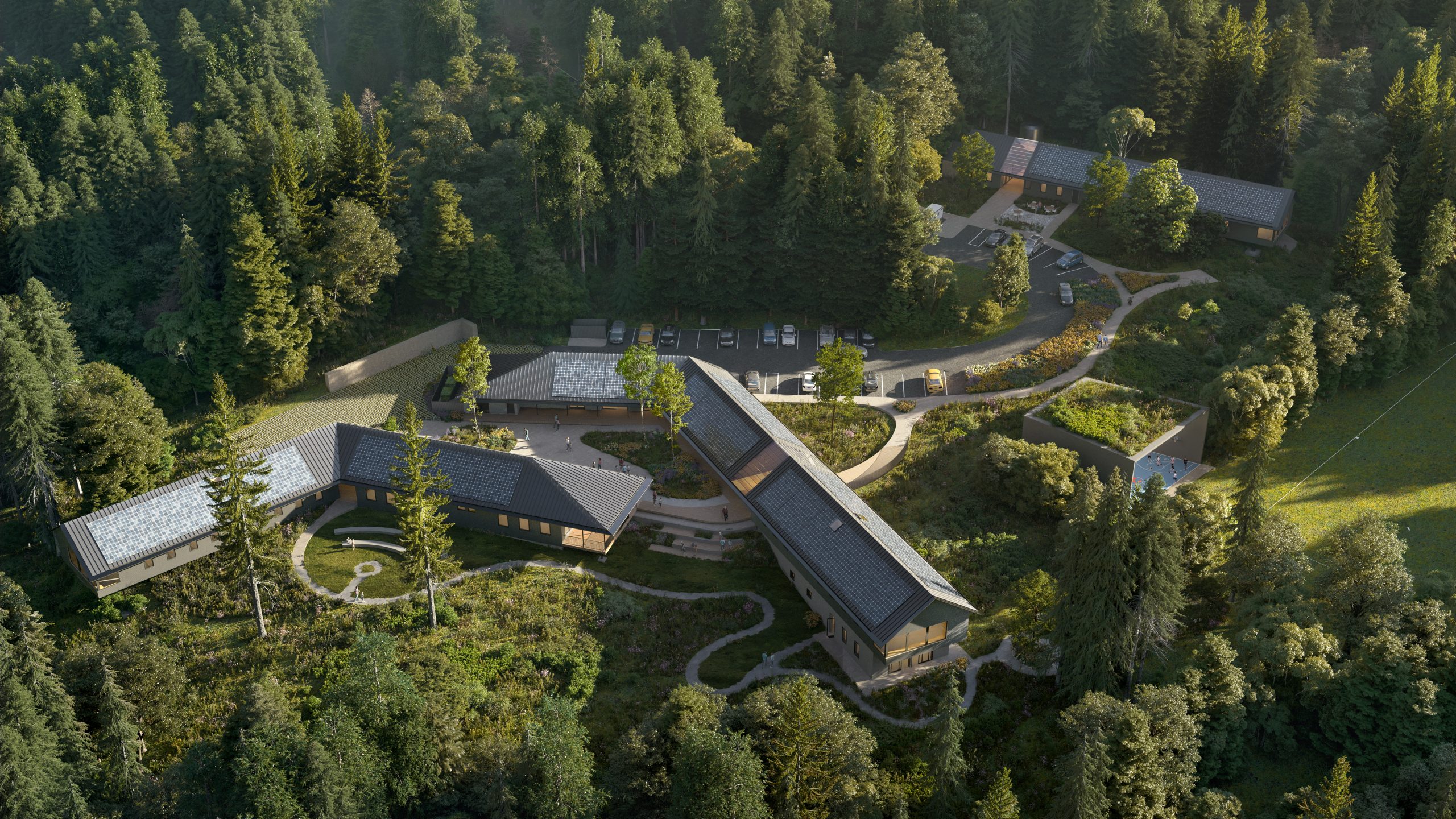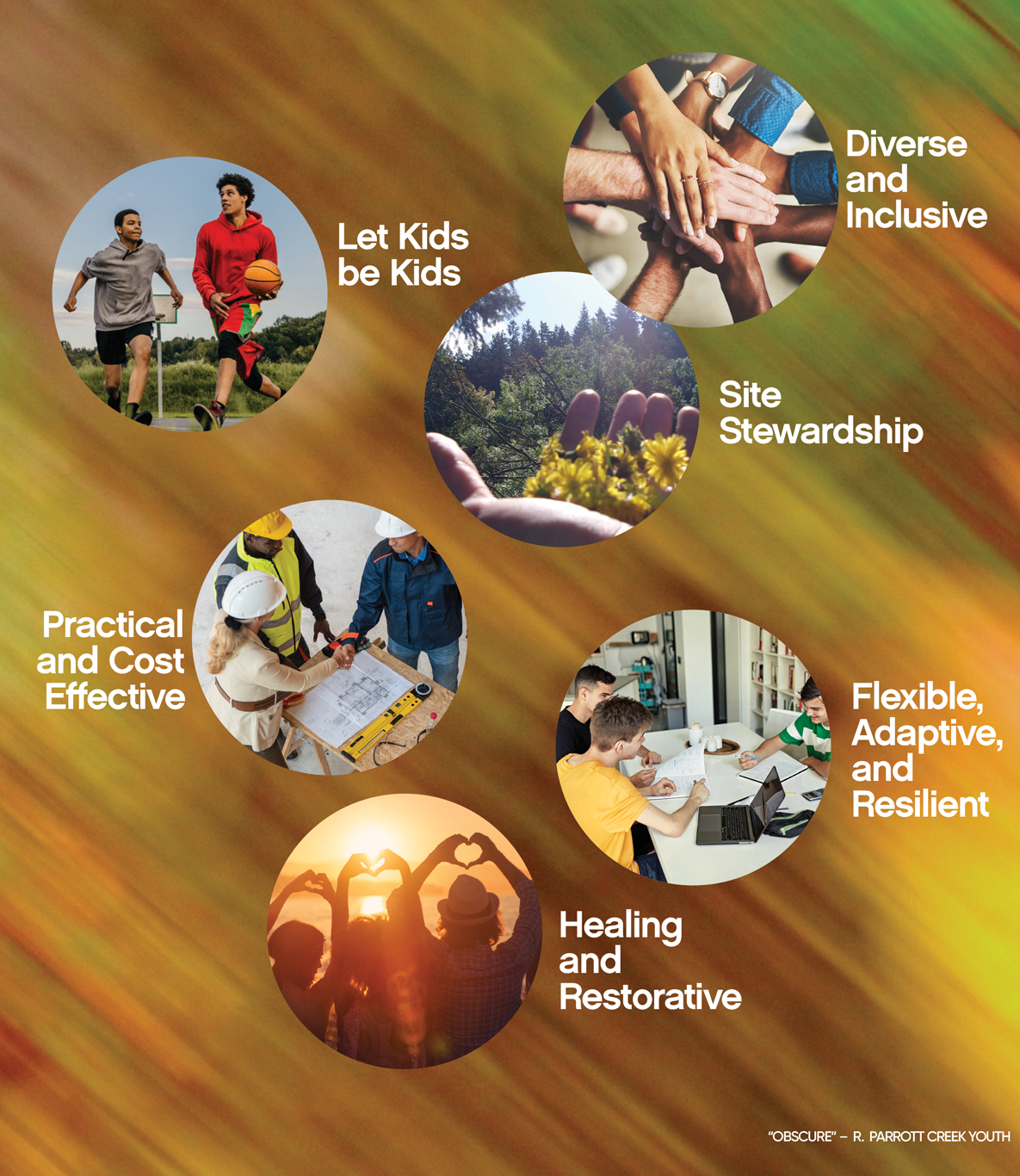 Parrott Creek has engaged partners in the development, design, and construction industry to support our efforts to transform the campus and the work/outcomes of their residents.  Design and engineering consultants were selected with a lens of equity, trauma-informed design, design excellence, and sustainability expertise. The team leaders are Adre, El Dorado Architects, and Walsh Construction.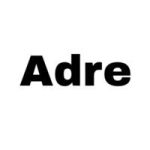 Adre is a Black- women-owned real estate development company founded by Anyeley Hallová with the purpose of developing buildings that create social and economic benefits for Black, Indigenous and people of color (BIPOC) through the creation of affordable homes, mixed-use developments, and facilities for mission-driven organizations. Adre developments seek to innovate in the real estate industry by creating pathways for wealth creation and financial stability for BIPOC communities and organizations; being a leader in diverse workforce participation from project conception to completion; and through sustainable building innovation.

El Dorado Architects El Dorado Architects is an integrated architecture, urban design, curatorial, education, and fabrication practice. El Dorado has made a name for themselves doing visionary work for nonprofits and mission-driven foundations in both planning and design. Elisandra Garcia is El Dorado's Director of Engagement and a Design for Spatial Justice fellow at the University of Oregon. She is focused on urban violence and trauma-informed design and brings that body of research and experience to their practice. 
Walsh Construction is a preeminent contractor in the Pacific Northwest, with vast experience on community-centered projects, affordable housing, sustainability, and target business outreach.  They are a key team member to help Parrott Creek achieve the project goals.  They have a history of engagement and expertise that will ensure that the residents and staff of Parrott Creek are seamlessly operating during the 14 month disruption on site to their operation. 
Our Project Equity & Environmental Goals are:
Equity-Centered Design. The buildings are designed to be welcoming to youth who are Black, Indigenous and People of Color (BIPOC), and responsive to their families/communities. The buildings will also be accessible to those with varying abilities.
Target Businesses Participation & Diversity. We have a goal to achieve 25% of BIPOC- and Women-owned Business Participation in the development of the buildings. Our team has currently achieved this goal with the design and engineering team and will continue to target these participation goals during construction.
Environmental sustainability and energy savings are crucial to our operational outlook and for the health of youth and staff through an enhanced indoor environment. The rural setting makes green building, land stewardship, and environmental resilience a critical component of the long-term financial and ethical sustainability of Parrott Creek. This includes a responsive design to fire risk and climate change. To this aim, we are striving for:
LEED Gold Certification. Leadership in Energy and Environmental Design (LEED) Certification provides a framework for healthy, efficient, low-carbon and cost-saving green buildings, and is the most widely used rating system in the world. LEED certified buildings are proven to save money, improve efficiency, lower carbon emissions, and create healthier places for people. The project be held accountable to these goals through third party verification. We are striving for Net-Zero emissions and have applied for a $1M federal grant to install solar panels and battery storage.
Indigenous Site Stewardship. Parrott Creek is located on the ancestral lands of the Chinook, Kalapuya, and Northern Molalla peoples. We believe that nature is healing, restorative, and that it cannot be owned. We are collaborating with Tribal partners via our Cultural Ecology & Trauma Healing Project to connect indigenous knowledge on the site's environment and landscape, building a community hub and providing access to these community partners to embrace cultural practices (such as the cultivation of First Foods) that predate acquisition through colonization.
Contact: